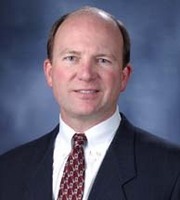 New York (Vocus) June 10, 2009
Commercial Mortgage Securities Association is pleased to announce the succession of Patrick C. Sargent as President of CMSA for June 2009-June 2010. He follows Christopher Hoeffel, who served as President this past year and whose term concludes during CMSA's 15th Annual Convention, now being held in New York.
Pat Sargent is a partner with Andrews Kurth LLP and a member of the Real Estate and Structured Finance and Securitization practice groups in the firm's Dallas office.
"I'm honored to serve as President of CMSA for the upcoming year, a time I see as our market's 'recovery year,'" Mr. Sargent said. "While challenges remain, it's clear that CMSA is the effective voice for the industry in outlining its views to advance the needs of the members it serves. I see CMSA and its membership as pivotal in bringing strength, reliability and stability back to our industry," he said.
"Alongside Pat, I wish to sincerely thank Chris Hoeffel for his thoughtful and remarkable leadership during our market's many challenges this year," said Dottie Cunningham, Chief Executive Officer, CMSA. "Chris' stewardship of CMSA through last fall's acute turmoil in the U.S. financial markets through his work in guiding our members through the many facets of these relief efforts remains instrumental to our mission, and all of us owe Chris a large debt of gratitude." she said.
"I also join Chris in welcoming Pat as our President," Ms. Cunningham continued. "Pat is one of the industry's most experienced, committed and respected leaders in commercial mortgage finance. On behalf of CMSA's members, all of us look forward to working with him as we begin this year filled with opportunity, recovery and success," she said.
Pat Sargent has represented participants in every facet of U.S. and international securitization and structured finance transactions, including commercial mortgage loan originators and loan sellers, issuers, investment banks, servicers, borrowers, investors, and rating agencies. Pat is a member of the Board of Governors of CMSA and also serves on the Board of Governors for the Mortgage Bankers Association and the Board of the Chartered Realty Investor Society. He is also a frequent speaker and writer on commercial real estate finance issues.
Pat received his Bachelor of Science degree in accounting from Kansas State University, where he graduated Phi Beta Kappa, and his law degree from Southern Methodist University School of Law, where he served as editor of the Southwestern Law Journal.
Commercial Mortgage Securities Association, the international trade association dedicated to promoting the ongoing strength, liquidity and viability of commercial real estate capital market finance, acts as a legislative and regulatory advocate, playing a vital role in setting industry standards for the global commercial mortgage markets.
Unlike many trade organizations, CMSA is a collective voice, representing the full range of the industry's market participants: large money-center and investment banks, rating agencies, insurance companies, traders, B-piece buyers and investors.
With more than 270 member companies globally, and with a presence in Europe, Japan and North America, CMSA is dedicated to insightful, forward-thinking research and industry initiatives that encourage vision, innovation and continuous professional growth for market participants. CMSA is committed to being responsive to its members, providing them with a culture of collaboration, collegiality, open and inclusive dialogue, consensus building and respect for diverse views.
Media Relations:

For CMSA: Kenneth Reed, kreed (at) cmsaglobal.org, 212-589-0961

For Andrews Kurth: Ashley Nelly, ashleynelly (at) andrewskurth.com, 713.220.4410
About Andrews Kurth LLP
For more than a century, Andrews Kurth has built its practice on the belief that "straight talk is good business." Real answers, clear vision and mutual respect define the firm's relationships with clients, colleagues, communities and employees. With more than 400 lawyers and offices in Austin, Beijing, Dallas, Houston, London, Los Angeles, New York, The Woodlands and Washington, DC, Andrews Kurth represents a wide array of clients in all areas of business law. For more information about Andrews Kurth, please visit http://www.andrewskurth.com.
###
Find More Securitization Press Releases