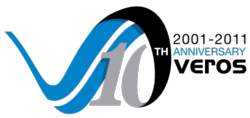 Santa Ana, CA (PRWEB) May 25, 2011
Veros Real Estate Solutions (Veros), an industry leader in enterprise risk management and property valuation services, is celebrating its 10-year anniversary.
Veros is a significant provider of property valuation analytics, including automated valuation models (AVMs), automated fraud and risk analytics, as well as forecasting for the real estate and mortgage industry. Veros products and services allow users to manage the entire spectrum of collateral valuation products while simultaneously monitoring workflow for compliance.
The company began business in 2001 with the release of its lead AVM product, VeroVALUE. Considered to be the first secondgeneration AVM, VeroVALUE provides the necessary transparency the industry needs for reliable confidence scoring and sophisticated predictive modeling.
Veros was formed on the belief that the future of properly understanding and analyzing collateral risk depended on leveraging strengths of all available valuation methodologies and data sources, said Darius Bozorgi, Veros president and chief executive officer. Our mission was to respond to what mortgage stakeholders truly needed. We continue to pursue this today through advancement of our core analytics and through the development of flexible, efficient, and transparent property valuation ordering, review and scoring solutions.
Veros went on to successfully develop and release additional analytics that included collateral risk scoring solutions, real estate market forecast tools, distressed-market AVMs, condition reports, and a variety of targeted analytics and solutions for use by top lenders and servicers. The company also was on the forefront in identifying the need for automated property valuation platforms and offered its first platform solution in 2007.
In 2010, Veros was chosen by Freddie Mac and Fannie Mae to build, support and maintain their joint platform, the Uniform Collateral Data Portal (UCDP), which provides electronic appraisal data delivery to these government-sponsored enterprises (GSEs). Previous to that, Veros was selected in 2009 to be the technology provider for Fannie Maes Collateral Data Delivery system, which requires originating lenders to provide appraisal data prior to loan delivery on loans purchased by the GSE. Additionally, Veros was named the exclusive provider of valuation analytics for Standard & Poors Fixed Income Risk Management Services efforts to provide loan-level property valuation information.
The partnerships Veros has formed in the past 10 years, and those to be formed in the future, all strive to provide the long-term benefits that come from mutually beneficial enhancements to improve the mortgage industry. Our forward-looking focus is on providing the tools and insights that will bring much-needed stability back to the housing finance system, said Bozorgi.
Veros has hosted the Predictive Methods Conference and published The RiskWire for the past 10 years. Both are educational forums geared to increase dialogue on important issues surrounding predictive mortgage technology. Recognized by its peers, Veros was the recipient of Mortgage Technology Magazines 2010 Synergy Award for its efforts around UCDP. Additionally, Mortgage Banking Magazine named Bozorgi a 2011 Technology All-Star for his thought leadership and technological innovations.
Bozorgi sees steady growth through continued high-tech product advancements to meet the strategic needs of business partners and professionals. Analytics will always be a primary focus for us. We are working hard to continually enhance our products to meet the ever-changing demands of the industry, he said. To that note, the development of the next generation of collateral tools and platform services is also critical to the success of the industry, he said. Veros commitment to on-going development equates to faster, more accurate, more informed and more profitable business decisions.
In line with business demands, the company has seen a steady uptick in its workforce and continues to add highly qualified individuals from the sales, engineering, computer information systems, operations, marketing and human resources fields. The majority of Veros employees are staffed at its headquarters in Santa Ana with additional satellite offices throughout the country.
About Veros Real Estate Solutions

Veros Real Estate Solutions, a proven leader in enterprise risk management and collateral valuation services, uniquely combines the power of predictive technology, data analytics and industry expertise to deliver advanced automated decisioning solutions. Veros products and services are optimizing millions of profitable decisions throughout the mortgage industry, from loan origination through servicing and securitization. Veros provides solutions to control risk and increase profits including automated valuations, fraud and risk detection, portfolio analysis, forecasting, and next-generation collateral risk management platforms. Veros is headquartered in Santa Ana, Calif. For additional information on Veros, visit http://www.veros.com or call (866) 458-3767.
###