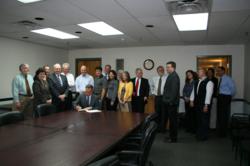 Montpelier, VT (PRWEB) May 20, 2011
Legislation passed by the 2011 session of the Vermont Legislature and signed into law by Governor Peter Shumlin expands Vermonts captive laws, to include allowing cells within a sponsored cell captive to be formed as incorporated protected cells. The bill was signed into law before a group of industry supporters on May 11.
This bill is testimony to our commitment to keep pace with the changing needs of this industry, said Governor Peter Shumlin. I commend the Legislature for their hard work and commitment to keeping Vermont the gold standard for captive domiciles.
Another change in the new captive insurance law creates greater flexibility within cell structures on business written by a sponsored captive and who can own a sponsored captive. These updates will allow more companies to domicile in Vermont and utilize the option of having incorporated cells. This is accomplished without limiting any rights or protections afforded by cells created by contract, said David Provost, Deputy Commissioner of Vermonts Captive Insurance Division.
Cell owners will now have more options, said Dan Towle, Director of Financial Services. Vermont will continue to license quality companies that may be sponsors of cell structures as long as they meet our regulatory requirements. The new law offers greater flexibility in their structures and ownership. Vermont currently has 18 sponsored cell captives with over 100 individual cells.
The bill also makes permanent the elimination of the first year minimum tax of $ 7,500 for newly licensed captives. It was a way for the Legislature and Governor to say thank you to an industry that has been so beneficial to Vermont, said Richard Smith, President of the Vermont Captive Insurance Association (VCIA). The VCIA was a strong supporter of this legislation and was a partner with the State in its passage.
After a strong 2010 with the licensing of its 900th captive insurance company, the State of Vermont enacted these changes to the Captive Insurance law in the Legislature as part of its annual enhancements to its captive statute, according to the Department of Banking, Insurance, Securities and Health Care Administration (BISHCA).
Vermont is off to its strongest start in years with nine captives licensed thus far with five applications in progress. Vermont is the largest captive insurance domicile in the U.S. and the third largest in the world, with $ 25 billion in gross written premium in 2010. Vermont is also home to captives formed by 42 of the companies that make up the Fortune 100, and 18 of the companies that make up the Dow 30 have Vermont captives.
Get to Know Captive Insurance

Captive insurance is a regulated form of self insurance that has been around since the 1960s, and has been a part of the Vermont insurance industry since 1981, when Vermont passed the Special Insurer Act. Captive insurance companies are formed by companies or groups of companies as a form of alternative insurance to better manage their own risk. Captives are typically used for corporate lines of insurance such as property, general liability, products liability, or professional liability. Growth sectors of the captive insurance industry include securitization, professional medical malpractice coverage for doctors and hospitals, and the continued trend of small and mid-sized companies forming captive insurance companies.
A sponsored captive is a structure created by a sponsor (typically an insurance company or other financial institution) to house individual insurance arrangements called cells. Each cell is created by the insured party, who is usually a customer of the sponsor, to insure its own risk. Such programs are ideal for insured who want to explore the use of a captive without starting their own or to address a short-term insurance issue (captives are considered long-term solutions to long-term issues). In many cases, they serve as incubator space for new captive insurance companies, as the cell owner discovers the benefits of creating their own captive.
An incorporated protected cell is a cell of a sponsored captive that is created under Vermonts corporation laws as a true corporation, as opposed to a cell that is created by contract.
For more information on Vermonts captive industry, please visit http://www.VermontCaptive.com, call Dan Towle at 802-828-5232 or email at dan.towle(at)state(dot)vt.us.
###